ART247 is a rich and diverse Arts Center overlooking the Historical Erie Canal in the designated National Historic District of Lowertown Lockport, NY. The Arts center originally founded as Market Street Art Studios by Art Hilger and Sally Bisher has developed a long history of providing arts and cultural education, lessons, and exhibitions to the Greater Niagara County community and beyond, as well as arts learning and studio spaces to regional artists.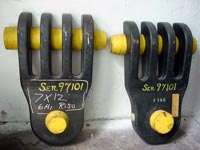 Our 130 year old building formerly housed the Western Block Company which organized in 1888, and was once the largest manufacturer of block and tackle in the country. The block and tackle manufactured here was widely used in the shipping trade and other industries. During the wars the company made equipment for the military. Samples of the molds used and other historical items are on display throughout the complex.

When this former factory became home to Market Street Art Studios in the early 1980s care was taken to keep some of the "old factory" feel. Pipes, iron H-beams and stone walls remain exposed. The outside of the building was renewed with murals and flowers, while the inside was painted white.
The Market Street Art Studios complex provided a friendly atmosphere where regional artists could create and display their work. As the complex developed and grew Art and Sally sought someone to carry on the vision of the Art Complex. In January, 2016 ART247 became the guardian to ensuring the missions and goals of the Art Complex continue and grow.
Artwork encompasses all media including watercolor, oil, pastels, acrylic, pencil, photography, portraits, pottery, jewelry, chainsaw sculpture, embroidery, printmaking and puppetry. And our Master Resident Artists combined equal hundreds of years of expertise in their artistry.