Art Education & Programming at ART247
Some of our exciting new arts programming includes Paint-and-Sip weekly sessions, Coffee-Paint weekly sessions, Date-Night Art classes, Family-Paint sessions, Childrens-Art-Exploration sessions, Open-Art sessions and further themed painting and art parties for those not artistically inclined to come enjoy art in a relaxed atmosphere of fun and creativity.
We will also be increasing our programming in both children and adults beginner and advanced lessons in a variety of media from oil and watercolor to photography and mixed media, both through ARTcenter classes and through Master Resident Artists' instruction.

ART247 will also provide special programming and accommodations to private groups for youth scouting programs, student field trips, corporate parties, corporate team building, birthdays, and private girls'/guys' night out parties. (Minimum attendance is required.)

Stayed tuned for details on these exciting new programs, and find out more about current classes:

Help us fulfill our mission of integrating art into the lives of people in a way that engages, inspires, and builds community by providing high-quality art education programs that instill a lifelong love of the arts. Show your support through membership, donations, gifts, corporate sponsorship, or by simply getting the word out about ART247! Additionally, members and sponsors of ART247 receive discounts on ARTcenter classes. Find out more on how you can help support art programming and education at ART247:

Available Paid & Volunteer Positions
Class Instructor positions available:
ART247 is currently accepting applications for class instructors for our themed intro to art classes. Multiple positions are available and include day and weekend classes. Class sessions are planned to occur on a weekly basis, excluding Holidays. Prior instructional experience is preferred. Classes range from 1-2 hours. Venue provided. Must submit a portfolio of work, and provide a resume with recommendations. Classes may require a prior example of the artwork to be taught by the instructor, and/or lesson plan and must be approved prior to class. Compensation is 70% of the per student class fee. Class sizes range from 5-20 students per class. To submit an application please send above requested information to h.grimmer@theART247.com.

Don't have formal instructional experience but want to get involved? Volunteer with ART247! A variety of volunteer positions are available for energetic individuals that help support art education in our community, and enrich your experience in the arts. Gain experience by assisting our Art Instructors in classes, help guide art students, and assist students in learning techniques taught by instructors.
Other ways to volunteer
ART247 is always in need of volunteers. We offer a variety of rewarding volunteer opportunities to support the Art Center as a volunteer including helping with special projects and at special events, assisting with tours and classes, and assisting at our front desk and gift shop during special shows and events.
Volunteering at the ART247 is a great way to meet people in the art community, learn new skills, and enjoy our exhibits. It provides an important service to our community by helping connect people of all ages with art.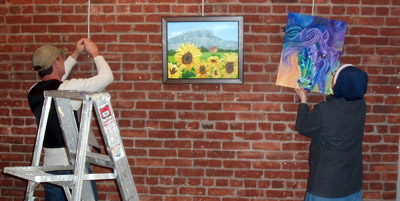 For more information about volunteering at ART247, please contact us at 716-404-9884 or use the form link below to fill out a volunteer application.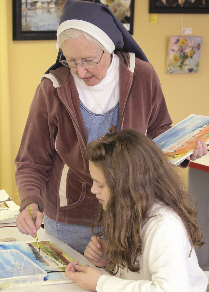 Inside the walls of ART247 are our Master Resident Artists with a combined hundreds of years experience in their Art and technique. Many of our Resident Artists offer private classes and individualized instructions for Adults and children at our Arts Center.
Classes range from one-day workshops to eight-week courses and are offered on weekdays, evenings, and weekends. A variety of media are taught such as pottery & ceramics, drawing, painting, printmaking, photography, mixed media and more. Learn from the best at ART247.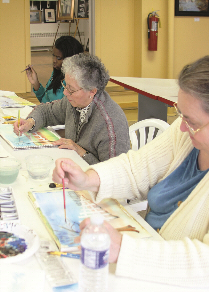 ART247 offers classroom spaces for public and private use. Our current facility supports a second floor classroom that accommodates 15-25 individuals depending on the classroom arrangement. Two first floor classrooms will be phased into use each accommodating up to 35-40 individuals. Classrooms are available for art education, art recreation, art community meetings and specialized art themed birthday parties. To reserve a classroom please contact h.grimmer@theART247.com
Happening at ART247
sun
mon
tue
wed
thu
fri
sat
No events for this period